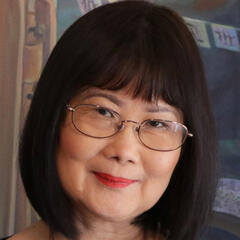 bilan liao
BiLan Liao is a new filmmaker of the "An Artist's Journey from China to America", retired art professor, and author of the book "Diary of the Dragon's Daughter."
Trailer
It's a true story of a woman and her family living through the dark and terrifying days of the Mao government. Decades later, her memories still haunt her, she painted away her deepest feelings and nightmares on the canvas. She paints her life in America, which is especially relevant today.
Awards . Finalist . Official Selection
---
2019 Readers' Favorite Book Review and Award for the Book "Diary of the Dragon's Daughter"
About BiLan
2021, Interviews, Awards, Finalist, Semi-finalist, Official Selected

Interviews:

https://www.hlc-cultcritic.com/an-artists-journey-from-china-to-america-by-bilan-liao/

https://www.chicagomoviemagazine.com/post/an-artist-s-journey-from-china-to-america

Awards (22 )

• Best Inspirational Film, Top Shorts, CA, US, April, 2021

• Best Film on Women, Crown Wood International Film Festival, 2021, West Bengal 700099, INDIA

• Educational Films, Outstanding Achievement Award, Cult Critic Movie Awards, 12 Jodhpur Park, West Bengal

• Women's Films, Druk International Film Festival Vill : Pangsho, Geog. Toewang

Punakha, Paro https://diff-bt.com/monthly-results-may-2021/

• Best Woman Filmmaker- Award of Merit, Vegas Movie Awards, Las Vegas, NV, US

• Best Women Short, Independent Shorts Awards, Los Angeles, CA, US, April 18, 2021

• Asian Documentary Short, The IndieFEST Film Awards, La Jolla, CA, US, May 3, 2021

• Women's Films, Tagore International Film Festival, Birbhum, West Bengal. May 20, 2021

• Women's Films, L'Age d'Or International Arthouse Film Festival, Kolkata, West Bengal, May 28, 2021

• Best First Time Filmmaker's Film, Krimson Horyzon International Film Festival, Kolkata, West Bengal, June 9,2021

• Educational Film, Virgin Spring Cinefest, Kolkata, West BengalVirgin Spring Cinefest, Kolkata, West Bengal, June 16, 2021 (https://www.vscinefest.com/monthly-selection-may-june-2021/)

• Women Filmmakers, Award of Recognition June 2021, Best Shorts Competition

https://bestshorts.net/award-of-recognition-june-2021/

• Women's Films, World Film Carnival - Singapore, 390 Victoria Street, Singapore 188061

• Educational Film, Calcutta International Cult Film Festival, (South), Kolkata, West Bengal

• ********************************************

• Educational Film, Royal Society of Television & Motion Picture Awards, 59/2 Prince Golam Hossain Shah Road, Kolkata. West Bengal, IN 700032 (No IMDb)

• Best Film on Women, Indo French International Film Festival, PONDICHERRY

• Best Educational Film, Brandenburg International Film Festival, Mitte, Berlin, Germany

• Documentary Films Cinephilia Motion Pictures Festival, Frontera, Cádiz, Spain

• Women's Films, August 16, Ghum International Film Festival, West Bengal, India

• Best Educational Film, Gangtok International Film Festival, June 30, 2021

• Documentary Films, Roshani (Reels) International Film Festival 2021, Aurangabad, Maharashtra, India

• Best Documentary Short, July, 2021, Golden Peacock International Film Festival, Port Blair, Andaman And Nicobar Island

Honorable Mention

Best Short Documentary,Toronto Film and Script Awards, April, 2021

Finalist (6)

First Time Filmmakers, Roma Short Film Festival, June, 2021

First Time Filmmakers, Tokyo International Short Film Festival, June, 2021

All categories for a short film about women, New York International Women Festival, May, 2021

Best First Time Short Filmmakers, Berlin Shorts Award, May 2021

Best Women's issue Short, Dubai Independent Film Festival, May, 2021

Best Short Women's issue Film, Toronto Independent Film Festival of Cift, May, 2021

Semi Finalist (1)

Best First Time Filmmaker Short, Hong Kong Indie Film Festival, June, 2021

Nominee (1)

Best Documentary Feature, Lonely Wolf: London International Film Festival, Summer, 2021. UK

Official Selected (8)

Golden Wheat Awards, June, 2021

Miami Indie Film Awards, May, 2021

Tokyo Lift-Off Film Festival, May, 2021

Austin Lift-Off Film Festival, May, 2021

LA Independent Women Film Awards, April, 2021

Chicago Indie Film Awards, April, 2021

Montreal Independent Film Festival, April, 2021

Toronto International Women Film Festival, May, 2021